Chemical security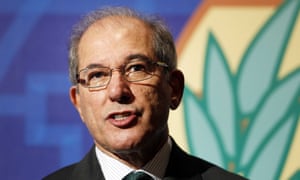 On Thursday the head of the Organisation for the Prohibition of Chemical Weapons, Ahmet Üzümcü, said the amount of novichok – a
military-grade nerve agent
developed by the Soviet Union – used in the attack on 4 March was significantly more than needed for research purposes and indicated it was likely to have been created for use as a weapon.
He told the New York Times: "That quantity – a range from slightly less than a quarter-cup to a half-cup of liquid – is significantly larger than the amount that would be created in a laboratory for research purposes, meaning that it was almost certainly created for use as a weapon."
Within hours of the report, however, startled chemical weapons experts were challenging the figure, insisting a miscommunication had occurred.
A statement from the OPCW
on Friday said the organisation "would not be able to estimate or determine the amount of the nerve agent that was used".
It added: "The quantity should nonetheless probably be characterised in milligrams."